Col Querin "quin" herlik story
Colonel (Retired) Querin "Quin" Herlik, U.S. Army, Former Prisoner of War, Vietnam and Cambodia, 1969
Major Quin Herlik thought he had a relatively safe job when he was sent to Vietnam, but he ended up in a harrowing fight for survival – and survive he did.  Now a retired Army Colonel, Herlik flew reconnaissance planes during the war. He ended up being shot down and captured in 1969. He was first held by the North Vietnamese.  Herlik said he was one of the lucky ones because he was held for just one month in Cambodia – others who were not as fortunate were held for years. He and his crew were released after intervention by President Richard Nixon.  He went on to serve 30 years in the Army and now lives in Augusta, where he is commander of the local chapter of American Ex-Prisoners of War and is the Past Georgia State Commander. "None of us POWs really feel distinguished," he said. "We really didn't do anything other servicemen wouldn't do in the same circumstances. Herlik and his three crewmen were awarded Silver Star medals and two Purple Heart medals for their heroism and wounds suffered in the action."
In Vietnam he flew the RU-1 Otter with a mission of intercepting enemy radio transmissions. His crew would then relay that information to troops on the ground to try to launch attacks. But on Feb. 12, 1969, his plane was hit with anti-aircraft fire, forcing him to land in a rice paddy at the Cambodia border. Enemy troops immediately began to converge on the American troops, who fought them off with two pistols and two M16 rifles long enough to destroy classified material. They eventually surrendered.
Herlik said he was kept in holes in the ground that didn't allow much room for movement. Later, the POWS went on a long march and were attacked by South Vietnamese troops along the way. At one point, when he refused to give up any information, one of his captors held a loaded pistol to his head. Herlik said he then began giving them a fabricated story. He ended up in a prison in Cambodia before he was released. "The fact that I went through that experience, I count my blessings every day," he said.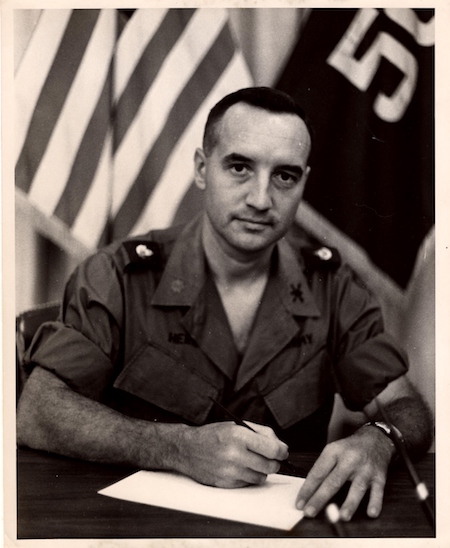 Major Quin Herlik – Commander – 146th Aviation Company, Saigon, Vietnam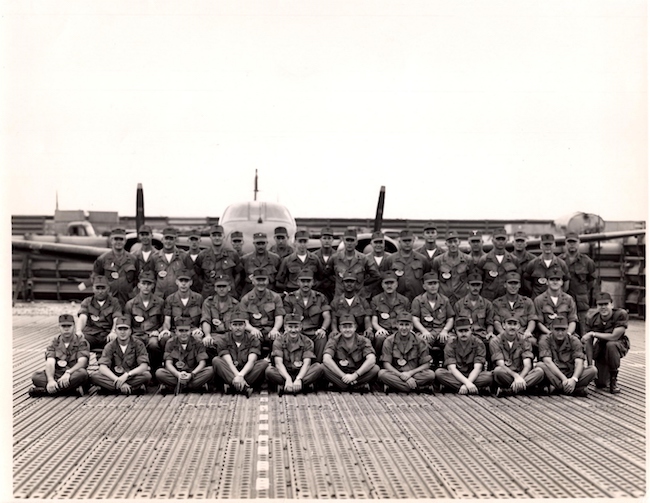 Pilots of the 146th Aviation Company, Saigon 1968
"Colonel (Retired) Quin Herlik is a native of Green Bay, Wisconsin. He received a Bachelor of Science Degree from Saint Norbert College and a Master's in Business Administration from Central Michigan University.
He entered the U.S. Army as a 2nd Lieutenant in Field Artillery in 1955 and retired 30 years later as a Colonel. His service varied between assignments in command and staff in both Artillery and Aviation branches of the Army.
Colonel Herlik served as Chief of Staff on the Joint Task Force in Alaska and as Operations Chief on the President's 747 Airborne Command Post. He also commanded an Artillery Battery and Group in Germany. He was commanding an Aviation Company in Vietnam in 1969 when he was shot down and captured in Cambodia.
He flew over 4,000 hours in 19 types of Army Aircraft and Helicopters including 912 hours under combat conditions while flying 478 missions over South Vietnam. Colonel Herlik is a graduate of several service schools including the Armed Forces Staff College in Norfolk, Virginia.
His awards and decorations include the Silver Star, Legion of Merit, Bronze Staff with Oak Leaf Cluster, Purple Heart, Meritorious Service Medal with 2 Oak Leaf Clusters, Joint Service Commendation Medal, 25 Air Medals (1 with V Device), Army Commendation Medal with Oak Leaf Cluster and several other service and campaign medals. He is also the holder of the Master Army Aviation Wings and the Joint Chief of Staff Identification Badge.
Colonel Herlik is married and resides in Augusta, Georgia. His three children include twin daughters who are nurses in California, and a son in Colorado, an Air Force pilot who flew A-10's and C-5's and is now a retired Lieutenant Colonel.
Upon his retirement from the Army, Colonel Herlik worked in Real Estate Sales and Management in Augusta, Georgia. He is active in Veterans Affairs and is a past commander of the American Ex-Prisoners of War in Georgia. He is currently the commander of the Greater Augusta Chapter of American Ex-POW's."
– National POW/MIA Recognition Day Breakfast Program
Colonel (Retired) Quin Herlik, Guest of Honor
9 September 2016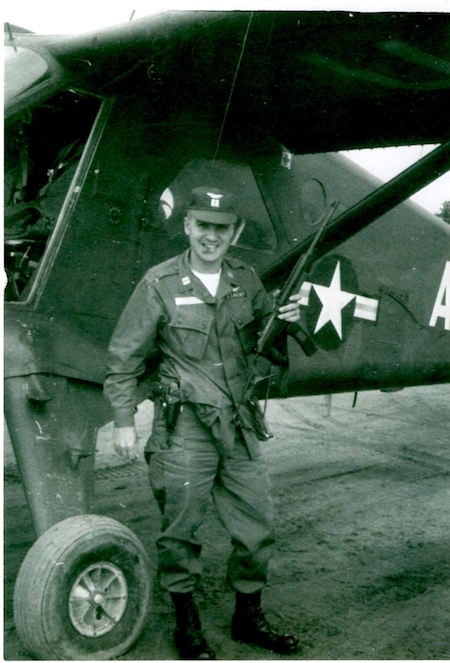 Captain Herlik with his U-6A Beaver aircraft on his first tour in Vietnam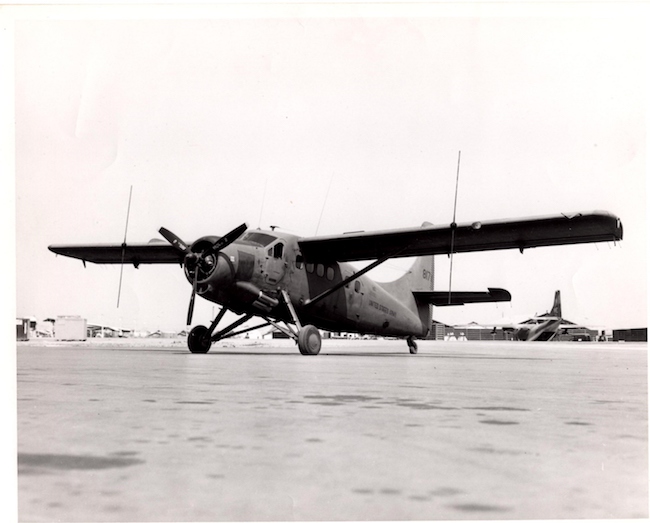 UI-A Otter aircraft like the one Herlik was shot down in